Every Story Matters
Each person has a story, and every story matters. We sincerely believe that immersing your donor network in the individual stories of those that you serve is a vital way to invite them into the collective mission of your organization, and to engage them in generous relational giving.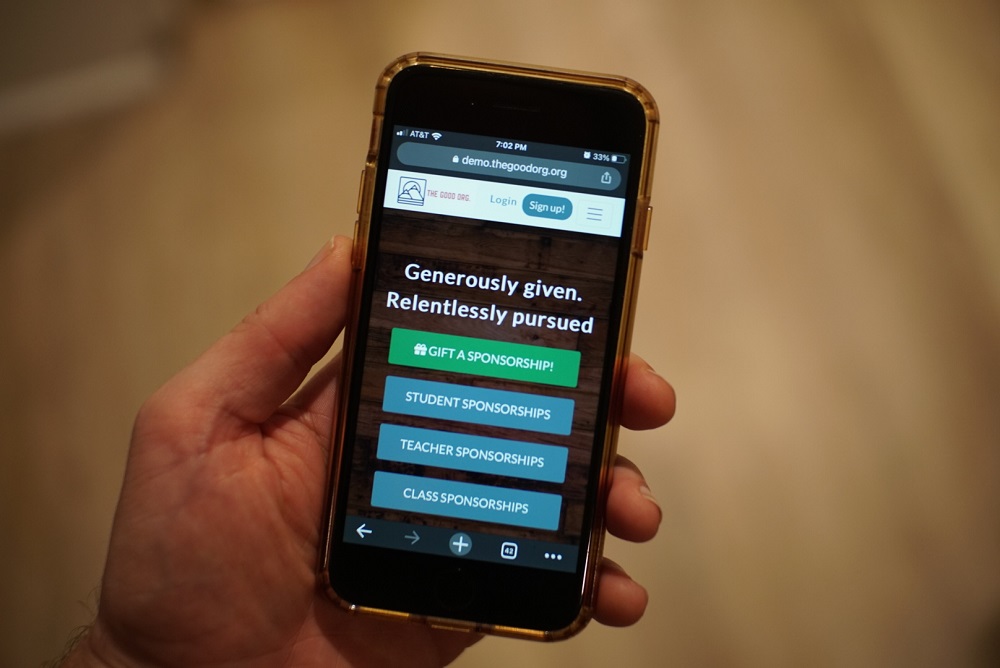 Ultimate Flexibility
Your nonprofit is unique and your sponsorship management platform should be robust and flexible to meet its specific needs.
Use as many different sponsorship types as you want. Child sponsorships, student sponsorships, missionary sponsorship, staff, classroom, team, or program/initiative sponsorships. Whatever it is, Outgiven can handle it.
One to one sponsorships, or many to one sponsorships, you decide what works best for your situation.
Your organization and it's programs evolve over time. Outgiven is designed to grow with you. Sponsorship pricing and configuration can easily be updated over time with no disruption to your donor base.
Unlimited everything. Sponsorship types, profiles, donors, administrators... no caps, ever!
---
Priority One: Child Privacy and Safety
We believe that child privacy and protection is paramount, and is a guiding principle in our philosophy of operation and how we build and utilize technology.
Outgiven's Identity Mask© technology can be enabled on any of your sponsorship types and allows you to protect the identity of children or other sensitive populations in your programs.
When Identity Mask® is enabled, images are automatically blurred, and additional identifiable information is masked in the public viewing directory.
Sponsoring unlocks a profile, and the sponsor then has full access to name, image galleries, and other information that you make available to them. Even then, you still have full control over limiting what sensitive information is displayed, such as birthdays and last names.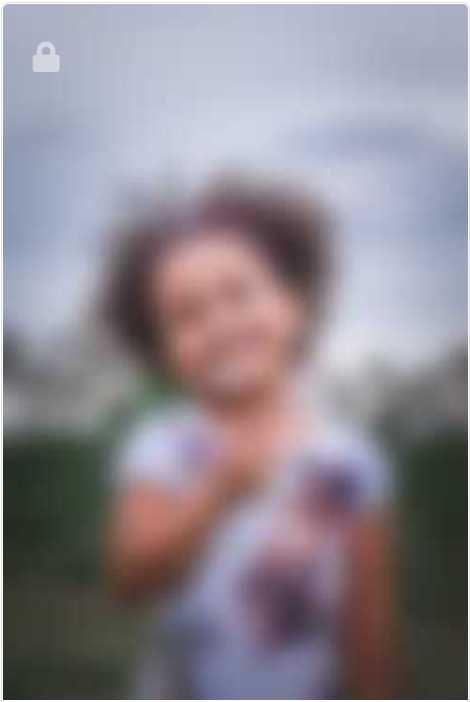 ---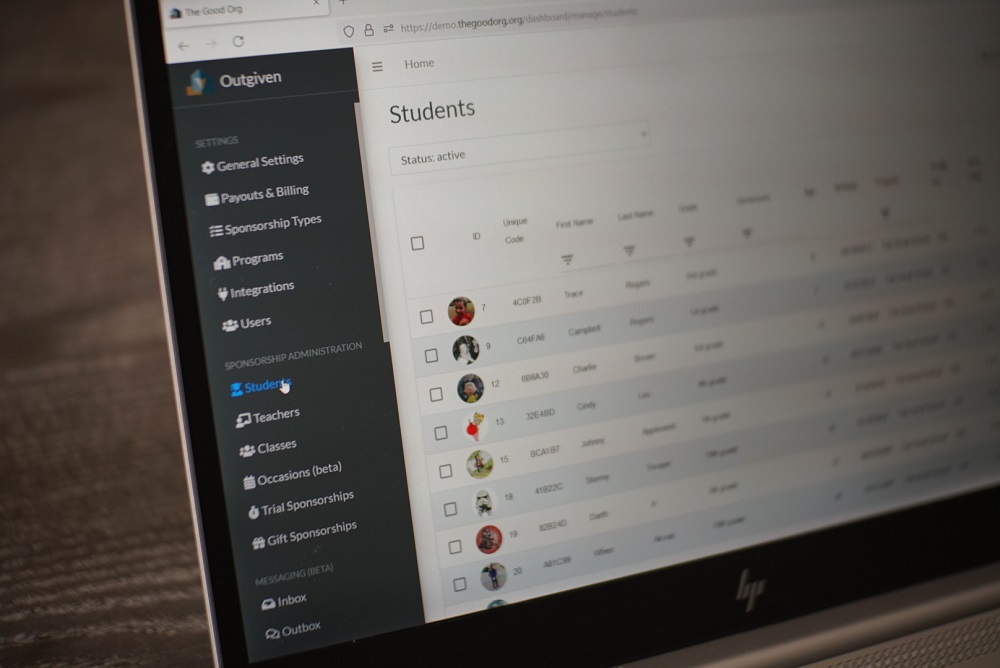 Intuitive Administration
With Outgiven, you have the tools at your fingertips to efficiently and effectively manage your sponsorship programs.
Delegate sponsorship management activities to your staff, and use permission management to limit access to specific areas of responsibility.
Easily manage and update all aspects of your sponsorship programs, including child sponsorship profiles, sponsorship types, branding, and integrations.
Manage branding and logos, as well as key contact info for account owners, sponsorship coordinators, and support personnel.
Manage payment settings, account linking, and payout details with the click of a button.
---
Robust Reporting and Integration
As your sponsorship programs grow, it is important to have comprehensive reporting in place to track, analyze and optimize your programs. Outgiven provides you with the tools you need to do just that.
Always have a pulse on your sponsorship programs, including current sponsorships and related status and detail information, as well as historical reporting.
Payment and transaction reporting, with full detail to allow you to reconcile and audit all aspects of your sponsorship donation revenue.
Export your reports with the click of the button for analysis in your favorite spreadsheet software, or for import and analysis in other software or systems.
Much more!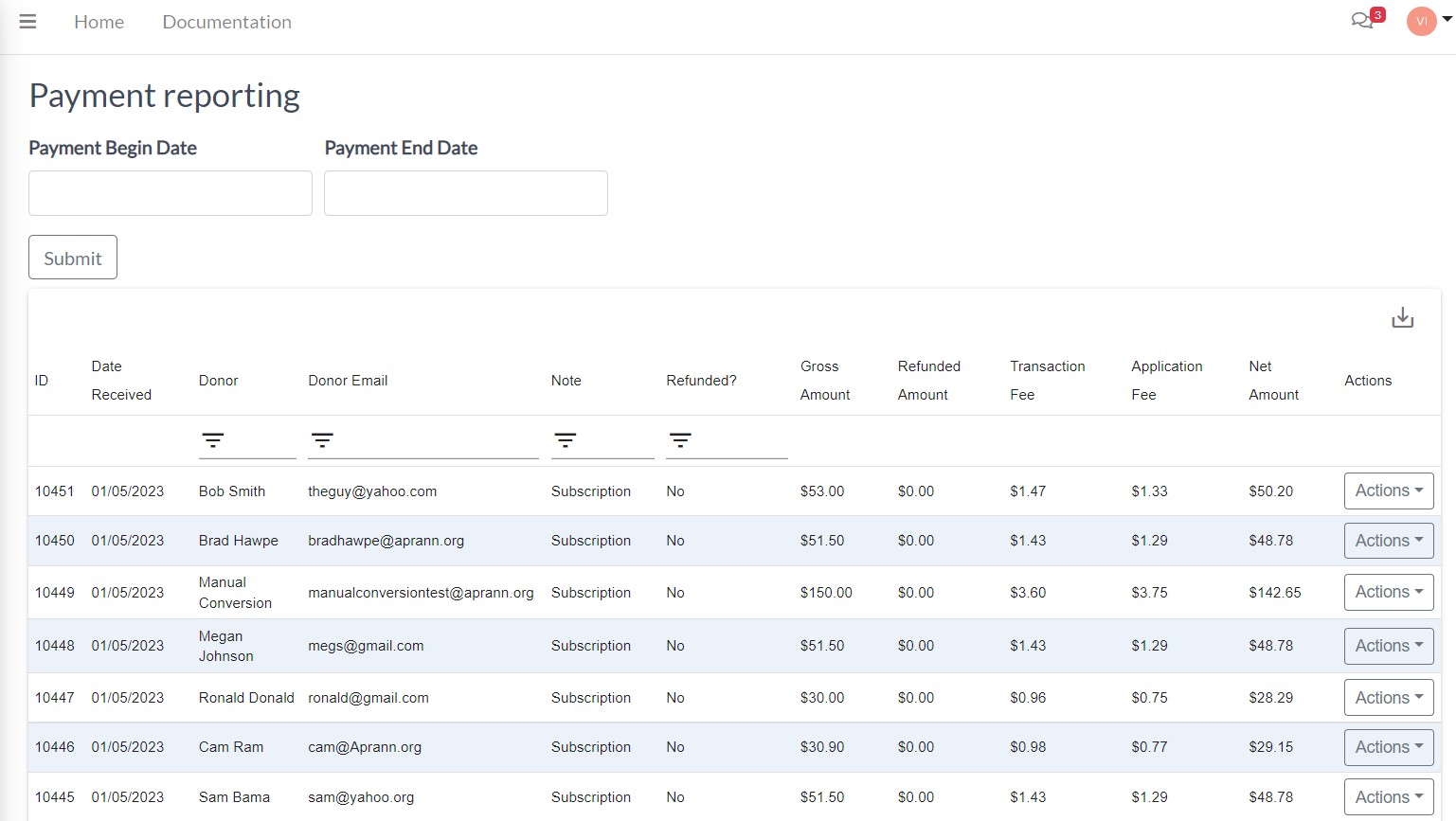 ---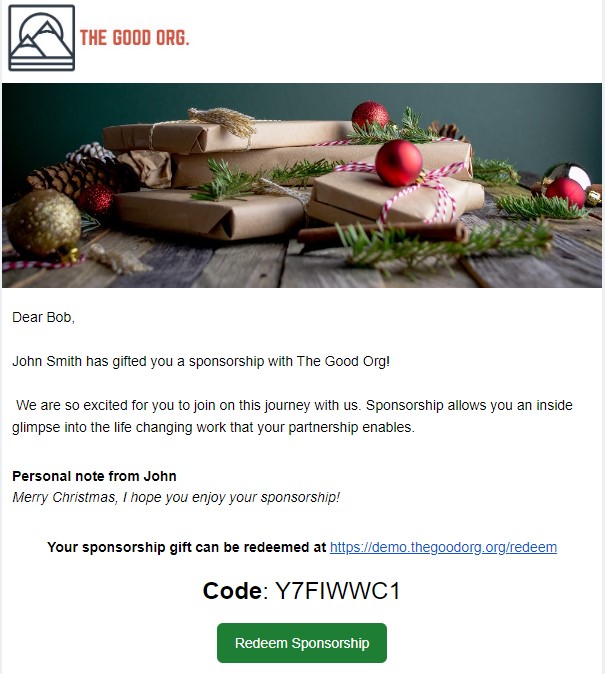 Engagement Tools
Child sponsorship is an opportunity for ongoing engagement and interaction with your donor base. The Outgiven sponsorship platform gives you the tools to bring your sponsorship program to life.
Outgiven automates all aspects of email communication with your sponsors, including welcome emails, sponsorship renewal reminders, and much more. Email analytics are included so that you can measure the engagement of your initiatives. Emails are fully branded to your organization.
You can provide unlimited sponsorship updates using rich text and images, and those updates are provided to relevant sponsors both through email and through online access.
Gift sponsorships allow for meaningful giving opportunities, where anyone can gift a sponsorship to another person for any amount or duration. At the end of the gift sponsorship period, Outgiven automatically prompts the sponsor to convert to an ongoing sponsorship!
Lightning Sponsorships are great for live events, and allow you to capture donor's attention in the moment. Using a generated QR code, donors can sponsor a child in under a minute, and then come back later to create and configure an account.
Much more!
---
Payment Integration
Simply and securely link your bank account in just a couple of minutes for payouts. Outgiven partners with Stripe to provide a secure, PCI compliant payment gateway for your sponsorship program.
Secure integrated payment gateway for worry free subscriptions and payouts.
Receive payouts on a weekly basis
Accept all major credit and debit cards, bank debits (ACH, ACSS), and major digital wallets.
Automated failed payment mitigation, with automatic retries and notifications to the donor with instructions on payment method updates.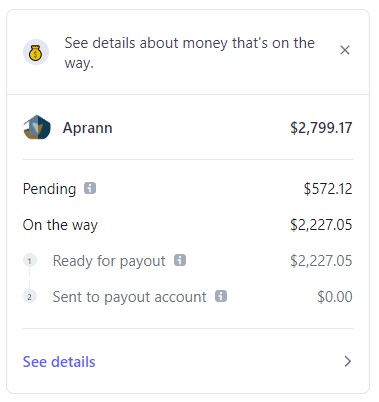 ---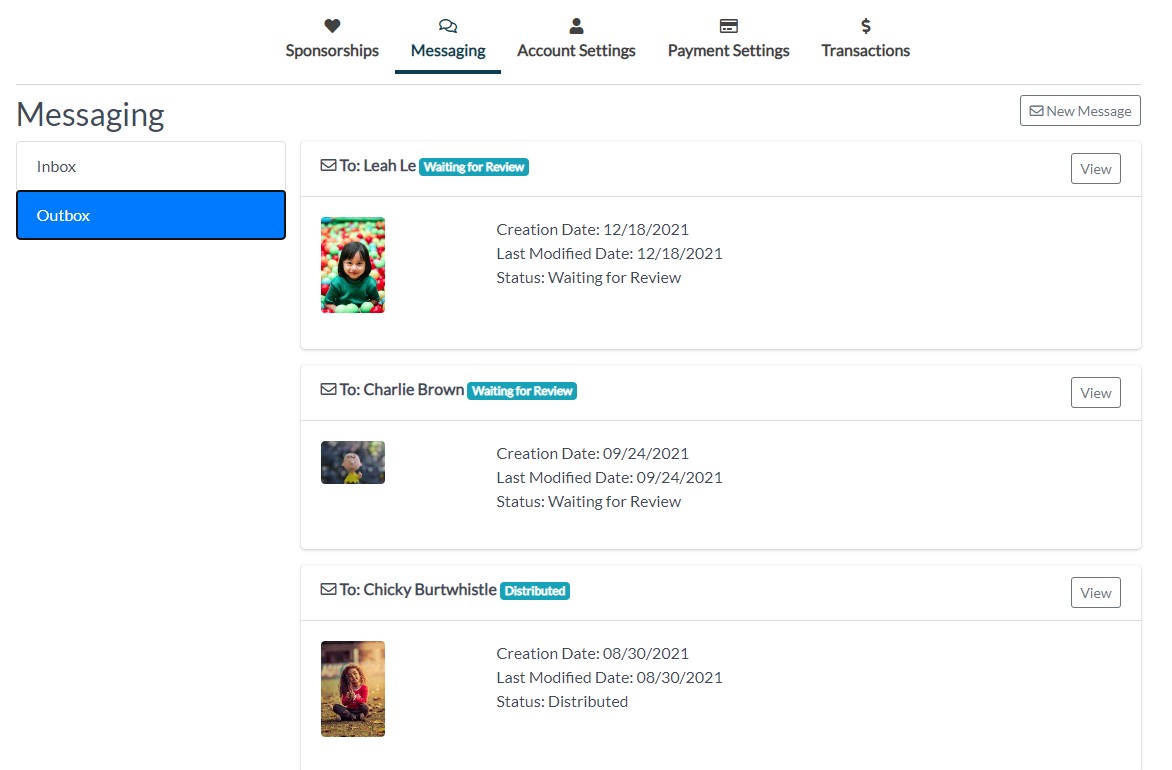 Moderated Messaging
Safe messaging provides a streamlined and efficient way of engaging sponsors and allowing them to personally share in the lives of the people they sponsor.
Through their Outgiven profile, sponsors can compose and send messages to their sponsored child, student, or other sponsorships.
Adminstrators with the Messaging role recieve notifications when a new message is submitted. They can then review and approve a message for delivery to the sponsored person.
OpenAI powers state of the art translation capabilities that are fast and accurate, saving you time and ensuring that the message is communicated as intended.
Automated emails keep both the sponsor and the messaging administrator informed of current status.
Messaging administrators can reply on behalf of the sponsored person, either by sending an image of a handwritten letter or by typing/transcribing a message directly.
---
Giving Occasions
Occasions is a feature of the Outgiven platform that allows you to engage with your sponsors and extended donor network by providing one time giving opportunities above and beyond recurring sponsorship giving.
Create one time giving opportunities such as back to school drives, christmas giving, teacher bonuses, and more. A fun and engaging giving page is created for each Occasion.
Existing sponsors are automatically emailed information about the occasions along with a link to the giving page. The link or QR code can also be provided to non-sponsors for an opportunity to donate as well.
Occassions can be configured to automatically generate for child/student birthdays, so that giving opportunities are automatically captured with no addition configuration and work from you.
Occasion analytics allow you to track and analyze the performance of your Occasions, such as the number of emails open/clicked, and the donation revenue performance.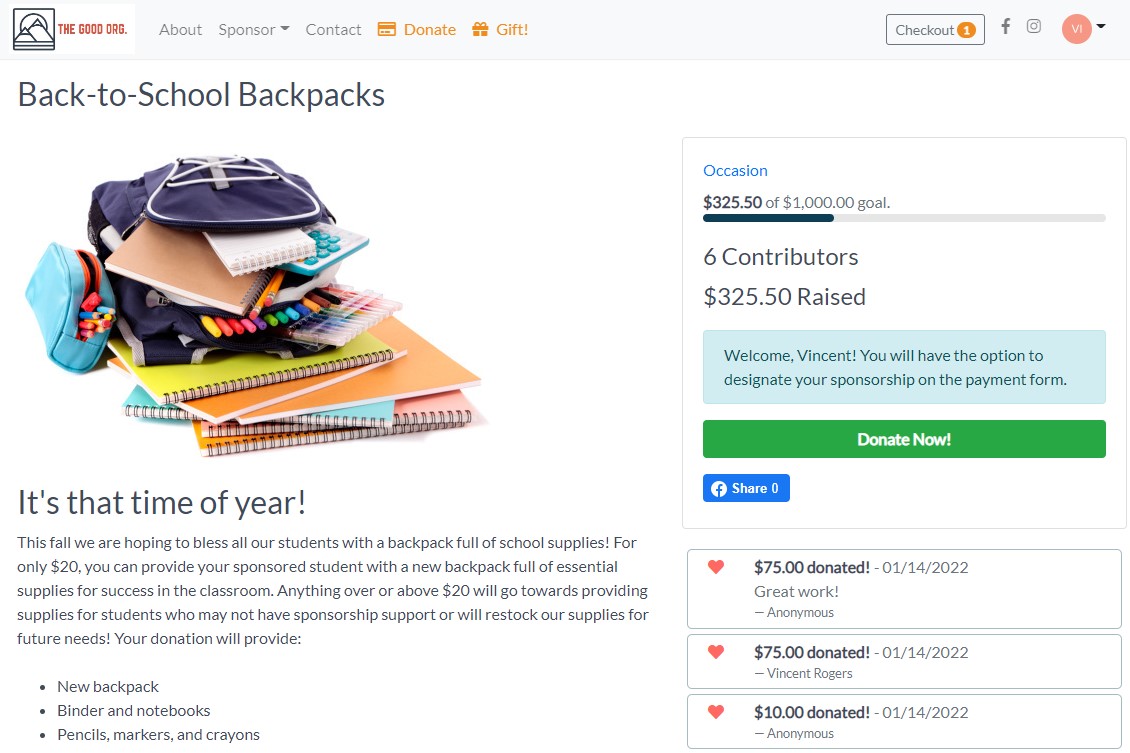 ---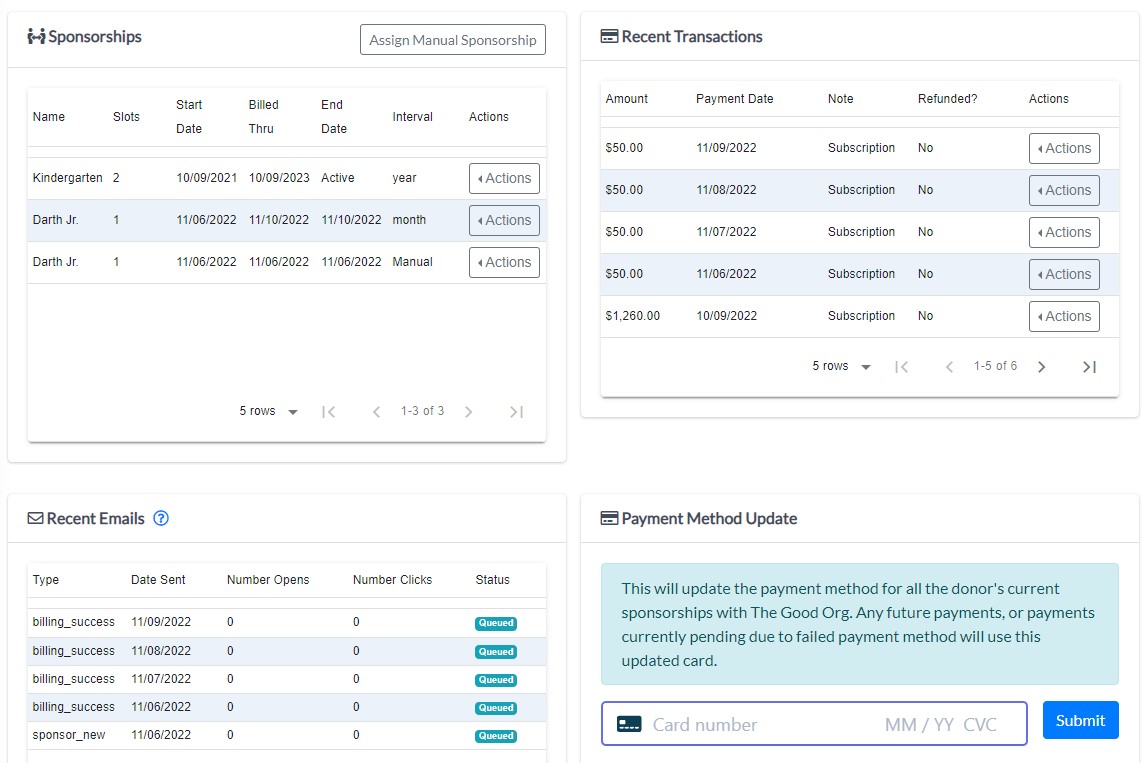 Donor Management
Outgiven's donor management interface allows you to efficiently support and manage your sponsorship donor base.
View and edit detailed information about each donor
Manually add managed donors and assign sponsorships for those that pay by check or through other means.
Add notes and comments to donor profiles so that you can track interactions over time
View email interactions, including listing of emails sent, opened, and clicked.
Manage all sponsorships, with ability to update sponsorships and payment methods on behalf of the donor.
View transactions, and refund specific payments if the need arises.
---
Donor Profile
Sponsors/Donors can login to their own personal profile to view, manage, and interact with all aspects of their sponsorships and account.
Donors can keep up with the latest information, pictures, and updates from their child sponsorships.
View and manage thier inbox and outbox for moderated messaging correspondance with sponsorships.
View and manage account settings and contact information
Manage payment methods to keep credit cards and bank links up to date
View and download transaction records.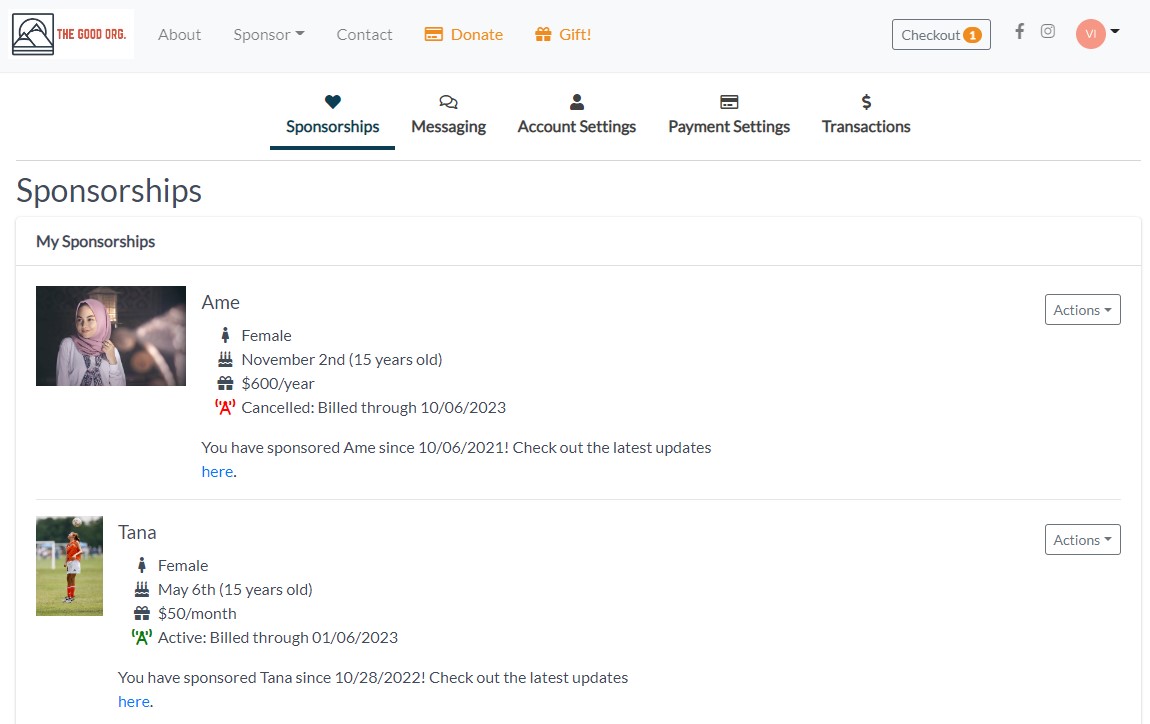 ---
Get Creative!
Have an idea for a sponsorship program but not quite sure how it would look with your organziation or fundraising model? We'd love to chat with you to talk about ideas and possibilties. Missionary sponsorships, church fundraising, school class fundraising, parent teacher association fundraising, and more. Let's chat!
Partner with Us
We're a nonprofit, and we get it. Fundraising and donor engagement can be challenging, but you shouldn't have to do it alone. When you partner with Aprann/Outgiven, you are in the care of software industry experts with years of experience building enterprise systems. Your subscription fees are also fueling important work to bring technology accessibility and education to the underserved, and that's something that anyone can get behind. We'd love the opportunity to connect with you more, so please reach out!
Sign Up!